Hot summer days means quick and easy meals. I am not keen on spending hours in a hot kitchen preparing dinner in sweltering heat especially whilst pregnant! On a balmy evening I would rather relax with family and friends over a vino and good conversation. A winner dish should be easy to prepare, use fresh seasonal organic ingredients and of course be delicious. This meal ticks all the boxes and all of the ingredients can be found in most kitchen pantries.
It is going to take a lot of work but I am committed to picking fresh tomatoes off the vine from my kitchen garden next summer. Yes, I need to prepare the soil, plant them and love them everyday and my years of dreaming needs to become more doing before another season passes me by. The sweetness of homegrown tomatoes remind me of the Island of Santorini in Greece where I would eat them by the handful as the sweet bursts popped in my mouth one by one!. The next best thing would be ones that I have grown myself.
I like to cook or prepare in bulk as it saves time, is energy efficient and economical for our family of four and soon to be five. The koftas freeze well and I usually make double or triple batches so they are always on hand. They are great for kids lunches served cold on a bread roll with lettuce and a splash of tomato sauce. Bring along a big bowl of homemade tabouleh to your next BBQ or picnic it will sure to be a hit. For those last minute surprise guests popping in you can whip up the tzatziki and once you know how easy it is to prepare you will never buy a store bought one again. Otherwise make the trio of recipes, buy a loaf of good crusty bread, chill the wine and invite a couple of friends over for a relaxing afternoon.
KOFTAS (makes 16)
INGREDIENTS
500g organic lean minced beef or lamb
small onion, finely diced
1 tbsp garlic, crushed
2 tsp ground cinnamon
1 tsp ground cumin
100ml tomato sauce
3/4 cup breadcrumbs
1 egg, whisked
1 tsp ground pepper
1 1/2 tsp salt
rice bran oil for pan frying
 METHOD
(1) In a medium sized bowl place the beef mince, onion, garlic, cinnamon, and cumin using your hands combine well. Add the tomato sauce, breadcrumbs, egg, salt and pepper using your hands, mix until all ingredients combined evenly.
(2) Shape the mixture into oval shapes and flatten until about 15mm thick. This mixture will make approximately 16 koftas.
(3) Place a large non stick pan on medium to high heat. Lightly spray the pan with rice bran oil and cook 8 koftas at a time. They should take 3-4 minutes on each side until lightly browned. Serve warm.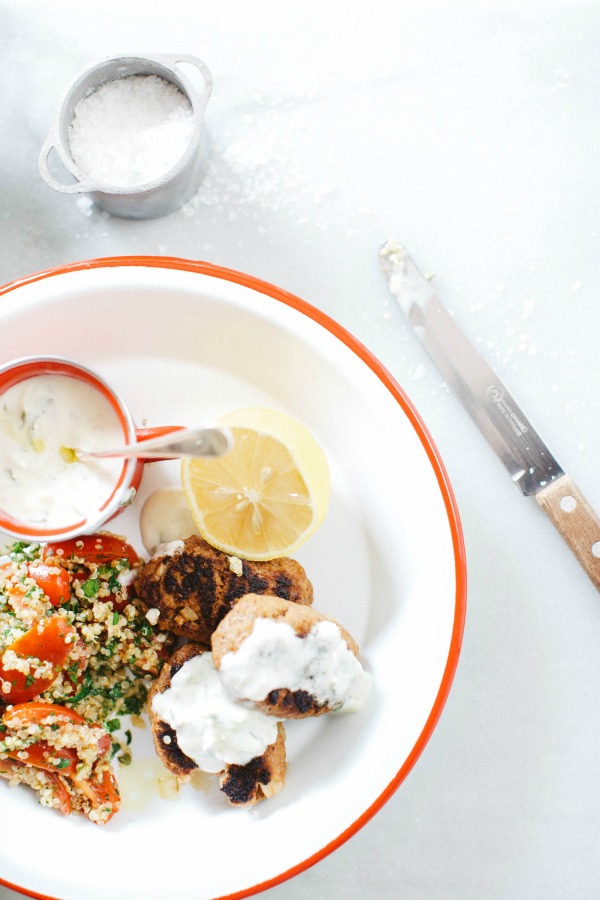 QUINOA TABOULEH
INGREDIENTS
1 cup cooked quinoa
1 punnet (250g) cherry or egg tomatoes, halved or quartered
1 bunch flat leaf parsley, chopped
1 generous handful of mint, chiffonade
1 stick of shallots, finely chopped
1 tsp garlic, crushed
2 tbsp lemon juice
1 tbsp olive oil
ground pepper
salt
1-2 tbsp buckwheat (optional)
METHOD
(1) In a medium sized bowl mix together quinoa, tomatoes, parsley, mint, shallots and garlic.
(2) If you are serving straight away add the lemon juice, olive oil and salt and pepper to taste. Otherwise complete step 1 refrigerate overnight and complete step 2 before serving. For an optional crunch sprinkle buckwheat over tabouleh.
Tip: Chiffonade is a chopping technique in which herbs or leafy green vegetables (such as spinach and basil) are cut into long, thin strips.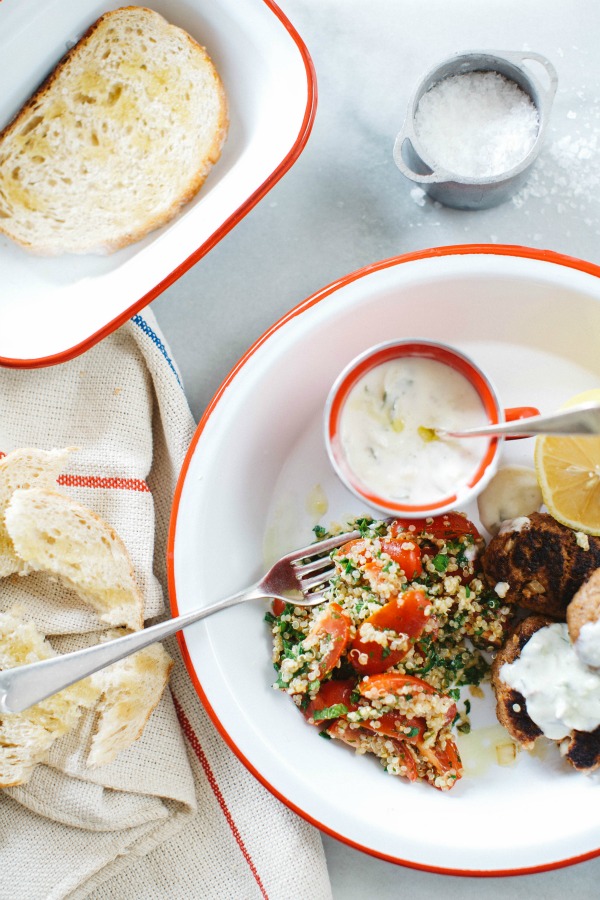 TZATZIKI
INGREDIENTS
3/4 cup natural Greek style yoghurt
1-2 cucumbers, grated
1-11/2 tsp garlic, crushed
1 tbsp lemon juice
ground pepper
salt
METHOD
(1) Place yoghurt, cucumber, garlic and lemon juice in a medium sized bowl and mix together with a spoon until evenly combined. Add salt and pepper to taste. Refrigerate until ready to serve. It will stay fresh in the fridge for a few days. Depending on whether you like a thicker or runnier tzatziki use 1 or 2 cucumbers.
End your meal with a refreshing homemade granita, seasonal fruits or a cheese platter. Bon Appetite!
In all things beautiful,
Lyn xx
{Summer Days Recipe} Koftas, Quinoa Tabouleh + Tzatziki