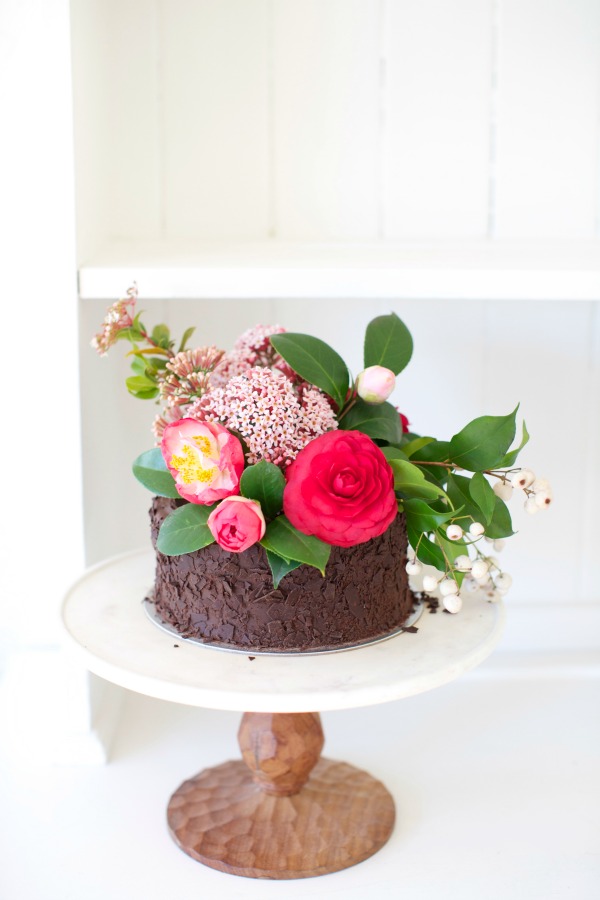 There is so much beauty in a cake adorned with fresh blooms. I usually bake my own cake but sometimes it is easier to buy a cake from a good baker or patisserie. So, if time is not on your side you have permission to cheat and buy a cake! My husband introduced me to this utterly scrumptious and moist chocolate mud cake from The Old Oak Patisserie in Sydney's CBD.
LYN'S TIPS FOR DECORATING A CAKE WITH FRESH FLOWERS
The key elements are SHAPE, COLOUR, TEXTURE and BALANCE when building your floral decorations.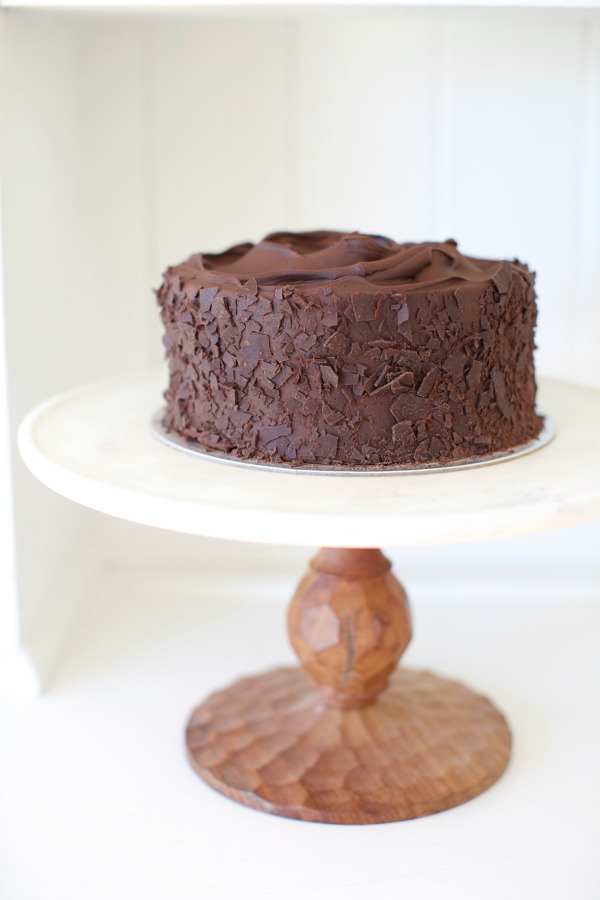 SHAPE – Anything goes when choosing a cake shape however I prefer to dress a round cake. A rustic naked cake with multiple layers, a basic round or two layered sponge cake would be my suggestions. You really can dress to impress and make your cake the centrepiece of your celebration.
COLOUR – Choose a colour palette to complement your cake. I love layering different tones and depths of colour because it adds complexity and really makes your cake pop! If you cannot decide on a colour the simplicity of white flowers and green foliage to me is timeless perfection.
TEXTURE –  Look for flowers and foliage with different sized buds, flowers and leaves to add depth and texture.  A few ideas for adding texture is using fresh or dried fruits, berries and rose petals.
BALANCE – Placement of flowers is important to create a balance which is aesthetically pleasing to the eye. Creating a relaxed and less structured arrangement does have to be strategic otherwise your arrangement could end up looking messy. Don't worry too much if you make a 'mistake' with placement as icing is quite forgiving and you can always hide behind a flower!
To start building the arrangement I start from one side and add each stem so it nestles next to the others.  Much like a florist builds a bouquet or arrangement. For a more organic and fluid design place the flowers flowing down one side of the cake. Don't be afraid to be a little avante garde and add height with cherry blossom twigs or the like. Alternatively, you can start from the centre and create an arrangement that is balanced symmetrically.
CHOOSING FLOWERS
Organically grown flowers are the best choice. If you have a garden or access to flowers which have been grown free from nasty pesticides and chemicals this is the best option. I love garden roses and foraging in the garden for lovely blooms and foliage. Fresh garden herbs, fresh and dried fruits and micro herbs are also a pretty addition to the cake decoration. Edible flowers are now all the rage and you can find them popping up in supermarkets especially organic wholefood markets.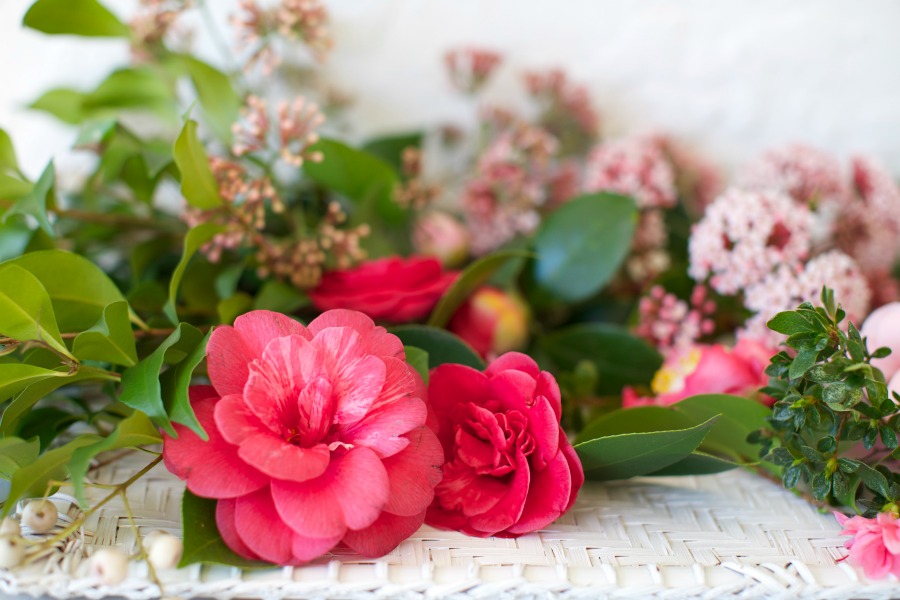 Here is a list of edible flowers. Petite Ingredient has a wonderful range of organic edible flowers which are grown in Victoria's Yarra Valley. They are used in sweet and savoury dishes and they have gained popularity in recent years.
begonias
borage
calendula
camelia
carnation
chamomile
chrysanthemums
cornflour
dahlia
daisies
dandelion
dianthus
echinacia
fennel pollen
fuchsia
hibiscus
lavender
lilac
linaria
marigold
nasturtium
pansy
pelargonium
peony
petunia
roses
rosemary flower
snap dragon
sunflower
tulip
viola
violet
PREPARING FLOWERS
Gently wash the flowers and foliage in cold water and dry thoroughly on a paper towel. Check there are no little bugs especially ants hiding in the flowers, strip the flowers of any leaves and remove any thorns. Once you have worked out the placement of the stem, trim the end at an angle and wrap the end of the stem with floral tape to ensure no sap contaminates the cake. Now you are ready to decorate your cake!
To get you started here is a step-by-step guide to how I arranged the flowers on the cake pictured. With each cake you decorate you will gain confidence and work out what works and what doesn't.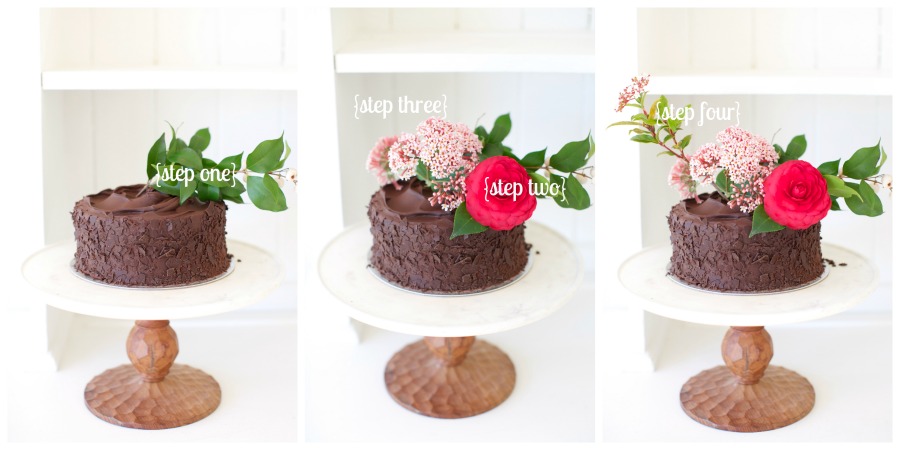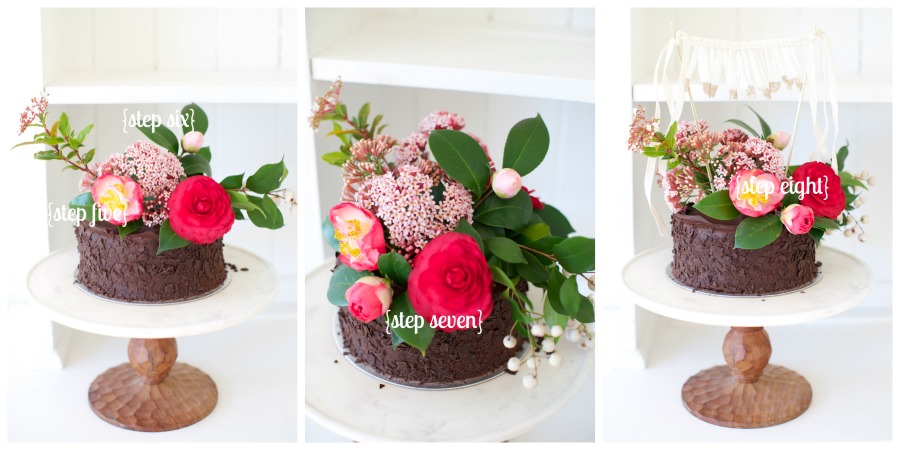 LITTLE EXTRAS – Adding delicate handmade bunting to your cake makes it extra special! You can find these handmade glitter feathered bunting in my etsy store. They are available in silver, rose gold and gold glitter and best of all you can re-use it for another celebration.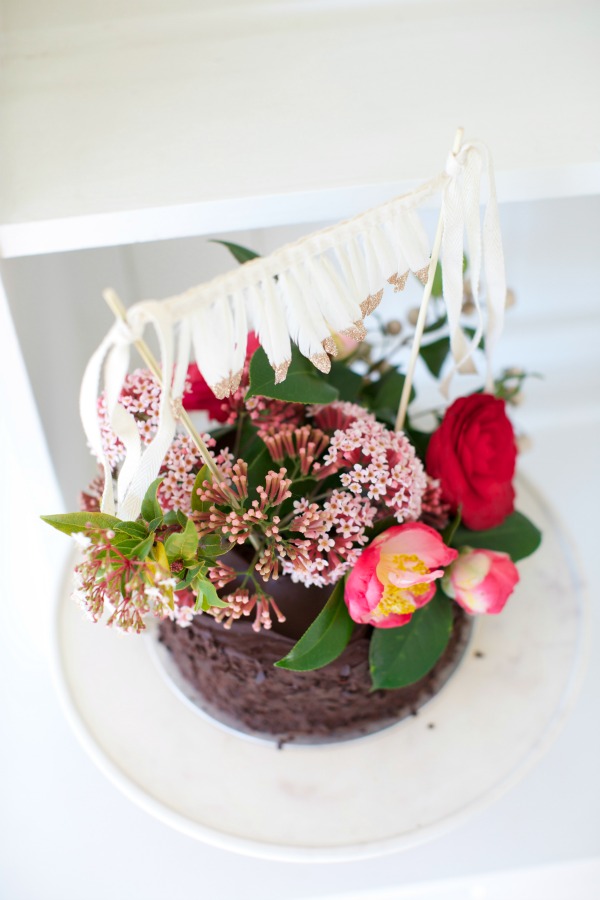 The Old Oak Patisserie T21, Metcentre 273 George Street Sydney (02) 9241 2050 (open Monday – Friday only)
Koch & Co (floral tape) http://www.koch.com.au
Petite Ingredient http://www.petiteingredient.com.au
Have fun adding a little beauty to your plain cakes for your next celebration!
In all things beautiful,
Lyn xx
{DIY} How to decorate a cake with flowers + foliage